Founded in 2015, Riverbourne Distillery is a boutique distillery based in Jingera, New South Wales, (just south of Captains Flat).  Martin Pye, runs a two person show, mashing, fermenting, distilling and ageing his range of boutique whiskies and rums with the utmost attention to detail, while his wife Eileen does the bottling, labelling, paperwork and distribution. 
The natural spring waters, climate and mountainous environment produce spirits with a unique flavour profile distinctive to the region. 
The distillery currently has over 15,000 Litres of rum and whisky ageing in French and American oak casks (a minimum of 3 years) and have different representations of whisky available now.
Martin Pye, the sole proprietor of Riverbourne Distillery, is a third generation Pharmacist and has always had a keen interest in the alchemist's art. After a pilgrimage to Tasmania, the spiritual home of Australian Single Malt Whisky, Martin soon embarked on a journey to launch his own distillery, crafting world class whisky, rum and other spirits. 
Under the tutelage of Dean Jackson from Redland's Distillery, a course designed by the father of Tasmanian whisky, Bill Lark; Martin honed his craft and now mashes, ferments and distills with the same passion and obsessive attention to detail as the award winning whiskies of Tasmania. 
Having studied Microbiology, Biochemistry, Chemistry and Mathematics, Martin possesses a unique skill set for a distiller that gives him a deep understanding of the processes involved in making the worlds finest spirits.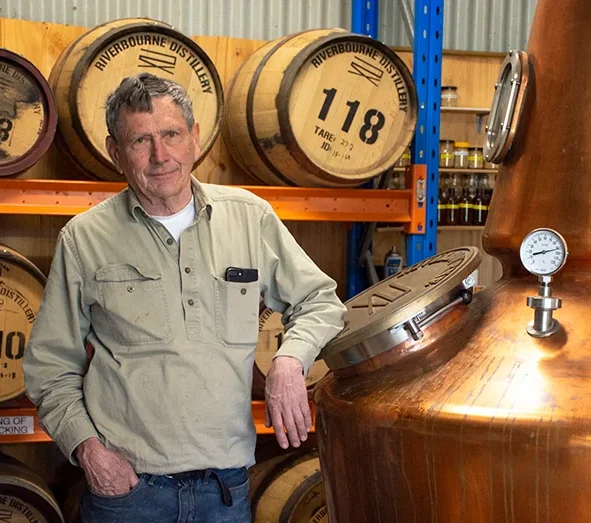 The Australian March 1845
Joseph Pye Junior, embroiled his family in a scandal, by running an illegal distillery on his property.
"At around 7pm on the 10th March 1845, Chief Constable Ryan made a wholesale seizure, consisting of a copper still, containing about 70 gallons, and a tin repeater the same size, making the capabilities 140 gallons, in a hut, on the ground of Mr. Joseph Pye Junior at Eastern Creek, in there District of Parramatta…within a stone's throw of his own residence. In Ryan's words: "I went from the still-house to the defendant's residence, which are so situated that each commands a view of the other, and saw….the defendant,(Joseph Pye Junior), and told him it was a very bad job for him to have a still".
Joseph Pye Junior's defence " he knew nothing about (the distillery)", was undone by the fact that the cart which was employed removing the spirits, was legibly inscribed with his name.
On Saturday 22 march 1845 he was sentenced by the Parramatta Bench to pay a fine of 125 pounds, for 'illicit distillation', or six months imprisonment in Parramatta Gaol. He chose to pay the fine.
Joseph Pye Jnr was my great grandfather's brother, so when people ask me what made me take up distilling, I reply
"It's in my DNA"
Pharmacy is very much a part of my heritage, my Grandfather, Father (and in 1970 me), were pharmacists in Parramatta, NSW.
In those early days the Pharmacist was more of an apothecary than today, compounding medicines was the usual, many were their own special formulations.
Prescriptions written by the Medical Doctor were introduced by the following script: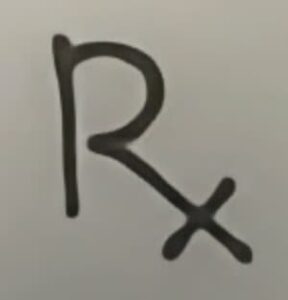 Rather than be an abbreviation for Recipe, it apparently stood for a prayer to the Egyptian god of healing Horus, hence was a symbol of "The Eye of Horus"
Hence with the creative imagination of a graphic designer, we ended up with a logo which looks like a Celtic Rune.